Observations
Turnagain Arm – Bird Country:
Numerous recent natural wind and persistent slab avalanches on multiple aspects above 3000′ on steep terrain in upper elevation tributary valleys to Ship and Indian creeks.  Lots of whumphing on S to W aspects between 2500-3000′ in wind loaded areas.  Very variable snow (listed from most to least prominent): supportable sastrugi windboard (rodeo), supportable chalky windboard (carve-able), recycled powder (nice), breakable and punchy windboard (horrible).
Recent natural persistent slab (presumably on buried surface hoar; triggered by recent wind loading), with impressive propagation, from 3500-3000′ SSE to SSW aspects: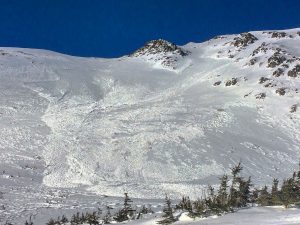 Estimated paths (in red) of recent natural wind and persistent slab avalanches: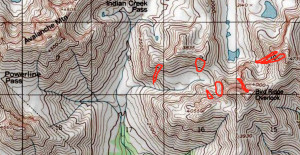 Front Range – Bear Valley – McHugh north ridge area:
Route:
Skinned up west sub-ridge of McHugh north ridge to around 3,100 ft to intersect with summer trail; skied down west aspect gully.
Obvious signs of instaiblity (red flags):
We did not get any large shooting cracks but were able to get 3 inch wind slabs to break in chunks around our skis out 3 ft in all directions in certain isolated locations. Obviously wind loaded areas on western aspects. Same western aspects were stripped to ground not far from loaded areas. The skin track we had skied earlier in the week was filled back in in some places and large deposits of wind blown snow could be found in places. Lots of hollow sounding, pillowed snow found on western aspects. Significant cross loading and stripping across Rabbit Creek and Bear Valley.
Weather:
Sunny, no precip, light wind near and at ridge lines, cold.
Surface conditions:
Highly spatially variable! Orange peel and recycled powder found lower on mountain. Sastrugi, impenetrable chalky windboard, breakable wind crusts 1-4 inches thick, and sun crusts. Nothing continuous.
Snowpack:
Generally pencil to knife hard wind slab, often sitting on crusts, overlying basal facets and depth hoar in the alpine. Lower elevations you could find recycled powder sitting over a crust, overlying basal facets and depth hoar. We dug 3 pits, 2 of which were on SW aspects near potential ridgeline starting zones that were 10 ft apart with very different test results, exhibiting the high spatial variability of the snowpack. Third snowpit was on a northern aspect in the same gully near the ridgeline. Elevation of pits ~3100 ft.
Pit 1: SW. 34 degrees. HS=80
ECTP9 down 35 cm on <1mm facets over a sun crust. The slab that failed above the weak layer and bed surface was K hard.
Pit 2: SW. 34 degrees. HS=87 cm
ECTX. Of note, this pit was 10 ft away from Pit 1 and the sun crust that found as the bed surface in Pit 1 was the surface layer in Pit 2. Pencil hard wind slab with a few thin layers <1 inch of 1F facets on top of basal facets that ranged from 1F to P hard.
Pit 3: NW. 28 degrees. HS=110 cm
ECTP11 down 45 cm on BSH layer. BSH was layed over and appeared to be rounding.
Spatial variability with sastrugi & sun crust: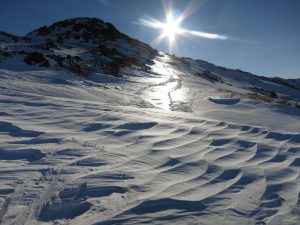 *McHugh observation credit: Jessie Haffener & Sam Galoob