As mentioned in the November 6 early season update, "dangerous wind slabs are likely to exist on some wind loaded alpine terrain features."
A climber found one of these on O'Malley Saturday:
The slab that released was located on a small bench above a pitch of water ice/cliffs, O'Malley Peak, NW Buttress.
Avalanche details
| | | | | | |
| --- | --- | --- | --- | --- | --- |
| Trigger | FootPenetration | Aspect | WestNorthwest | Elevation | 4300ft |
| Slope Angle | 30deg | Crown Depth | 24in | Width | 40ft |
| Length | 35ft | | | | |
Observer Comments
After climbing up a pitch of ice on O'Malley Peak, I pulled myself up onto a snowy bench. After taking a couple steps on the slab, it cracked, separated, and began to slide under my feet. Ultimately, the whole snow shelf (40'x35′) just broke off and fell. I had to quickly climb off the top of the slab as it fell over the crag below, very high consequence fall. Thankfully, I was at the top where it separated so I was able to scramble off by the time it had traveled 3-4′.
The slab itself was hard and about 24″ thick at the crown and narrowed to roughly 14″ at the bottom. After it fell off the crag, it continued down the runout above Deep Lake (stopped within 200 yards of lake). It did not cause secondary slides.
Obvious signs of instability
| | | | | | |
| --- | --- | --- | --- | --- | --- |
| Recent Avalanches? | No | Collapsing (Whoomphing)? | No | Cracking (Shooting cracks)? | Y |
Observer Comments
There weren't any obvious signs of instability from the start (no avy debris in the area at all). Snow did feel quite weird underfoot though.
Weather
20mph winds, maybe 3-4 inches of accumulation the week prior, temp was 20*F
Snow surface
Slab had powder on top(8-10″), then more of a styrofoam texture at the base.
Snowpack
Did not test prior to climbing.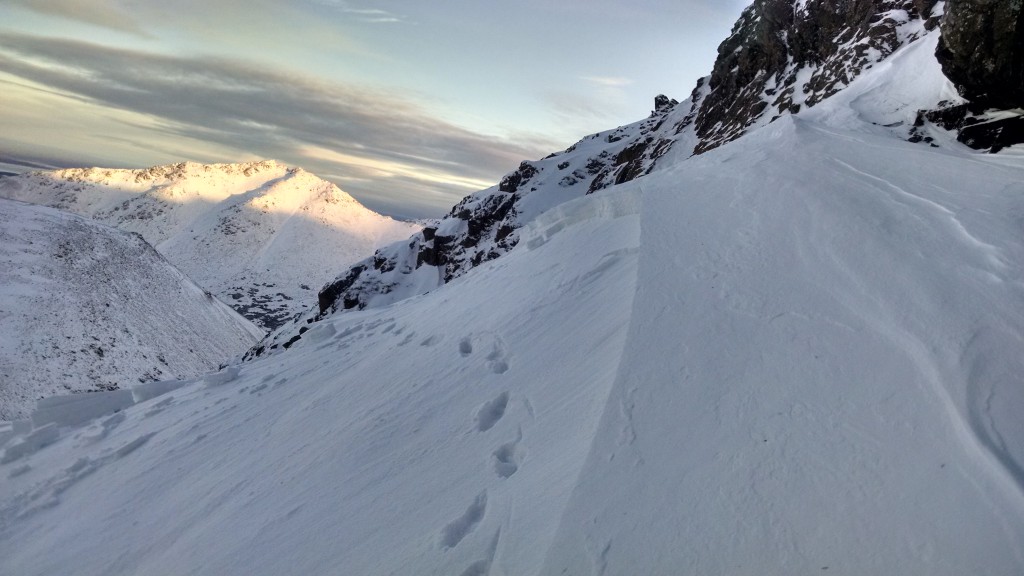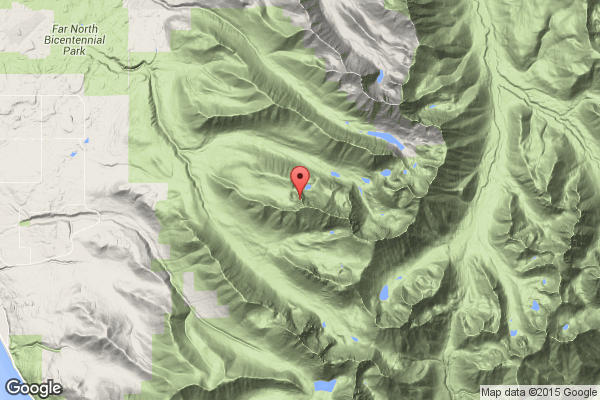 (This information is also available via CNFAIC.org)
AAC staff were in this area yesterday and observed widespread wind-affected snow.  The O'Malley gully (popular trail to the "ballpark" area) has been heavily wind loaded.  It has seen a lot of traffic without incident, but it is important to note that this gully can be prone to very dangerous avalanches as the climber's right side is typically wind loaded by SE, down valley winds throughout the season.
The Flattop trail is also showing evidence of being heavily wind loaded in the typical areas.  Be mindful of avalanche potential if you hike Flattop in the winter.
Here are a couple links with pictures from last season that illustrate avalanche problems typical to the Glen Alps area, and may catch less "avy savvy" recreationists off guard:
Keep in mind that the snowpack is generally less stable in the fall than spring, when these photos were taken.
As thin snow cover and recent cold weather has brought Front Range alpine and ice climbs into shape, it is important to remember than many of these climbs are exposed to potentially dangerous avalanche runouts and/or move through snow ledges that can harbor small, but dangerous, wind slabs (these small slides can prove fatal combined with exposure).