Saturday, January 11, 2014 – Observations – Canyon Road
Obvious signs of instability:
Weather:
Clear skies above stratus deck at ~3700′; cloudy below
Calm with with some very light breezes at ridgeline
Alpine temps in the upper teens
Surface conditions:
Supportable windboard above brush line; smoother in the upper elevations and more sastrugied at the mid elevations
Soft, breakable windboard around brush line
Snowpack discussion:
If you can find solace in hardpack, than the skiing via Canyon Road isn't bad.  Even if you can't, the views above 3700′ in the FRange today were more than consolation.
The upper elevation snowpack continues to display concerning stability test results, but the strength of wind slabs above persistent weak layers combined with typical FRange spatial variability seems to be keeping human triggered avalanches in check (to some degree).
Snowpit profile with stability test results ~200′ below the top of Peak 4.5 (very interesting variation in snowpack structure from Thursday's Peak 4 snowpit with similar aspect and elevation – just one gully over) :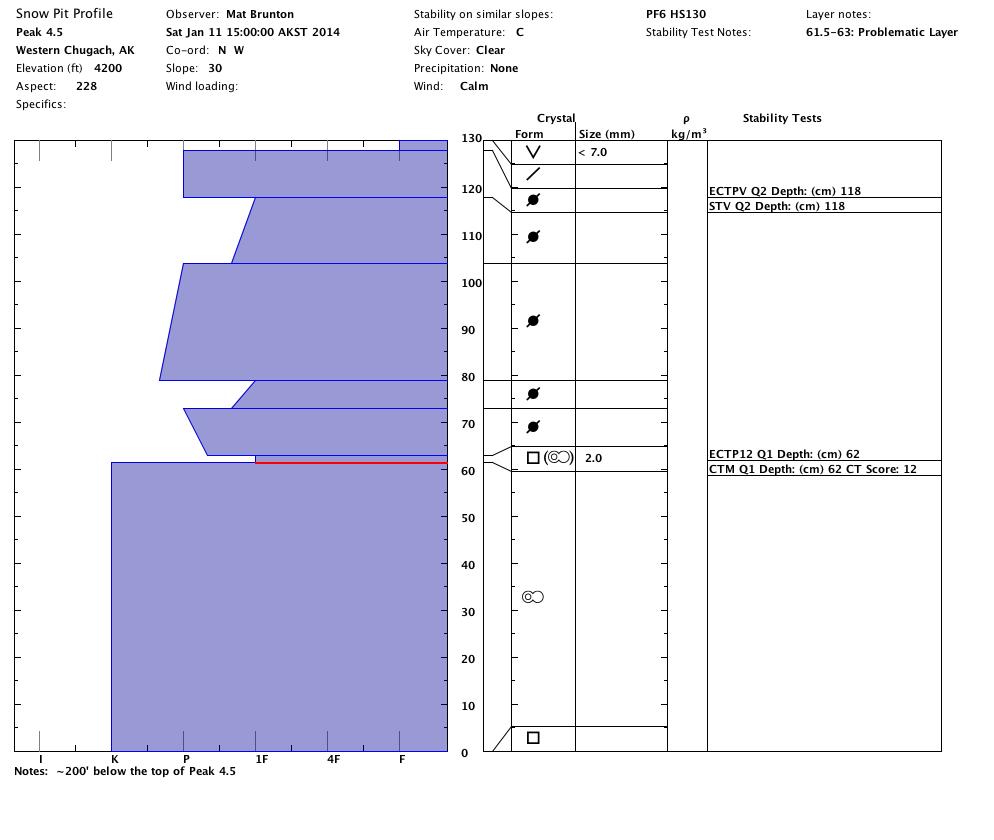 Location of above snowpit near the top of Peak 4.5:
Intact and standing surface hoar up to ~7mm has formed in the upper elevations – likely since Thursday above the stratus deck.  The couple cm's of soft new snow has also faceted readily, as evidenced by how much looser and drier it has become.  I'd suspect wind to alleviate potential problems from this existing surface snow before fresh comes, but taking heed of this layer of weak snow will be important.  What will it's status and distribution be when fresh comes?
Surface hoar at the top of Peak 4: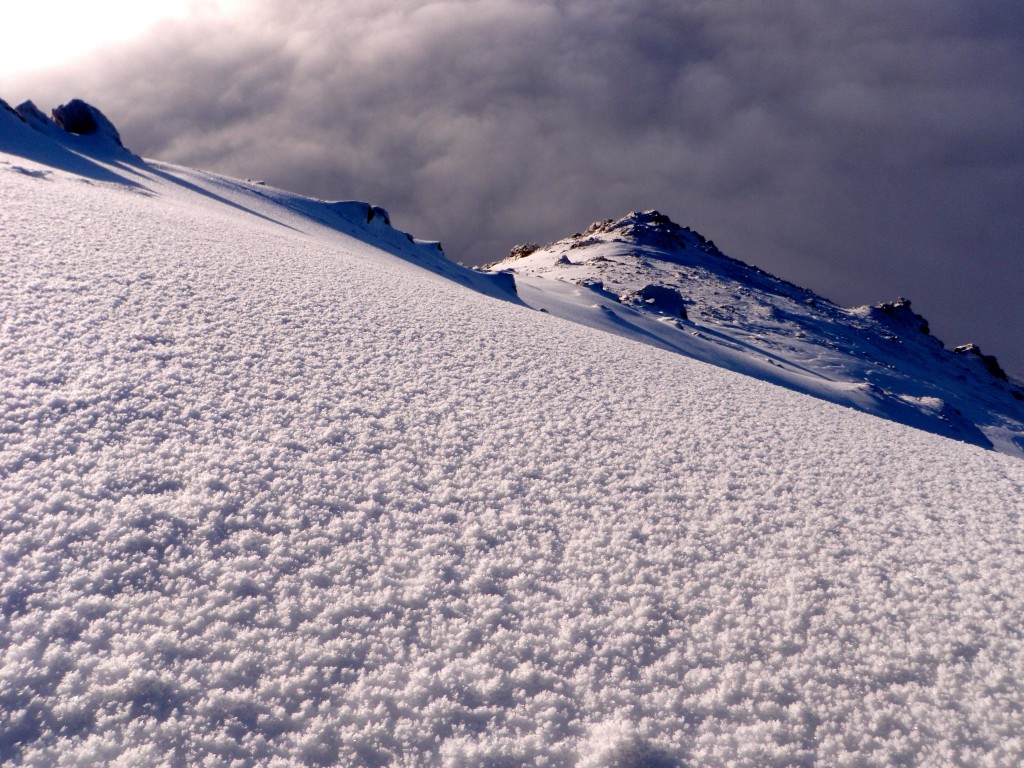 Lovely views in all directions:
Weekend Avalanche Outlook
Issued 1/11/14 at 9:15pm (information provided below expires in 24hrs)
Sunday:

Click here to see the complete danger scale
The lowdown:
Recent snowpack data and skiing experience suggests that stability is the most suspect in the northern advisory area (Eagle River), although the Front Range also harbors a snowpack with persistent weak layers capable of failing and propagating.
Primary concern:

Click here to learn more about persistent slabs and management of this type of danger
Persistent slab problems; primarily consisting of melt-freeze/rain crusts (bed surface), faceting grains on top of the crusts (weak interface/layer), and wind-packed hard slabs above; are widespread throughout the Front Range and Eagle River area Chugach.
Snowpit stability tests from Wednesday, Thursday, and Saturday showed continued failure and propagation propensity for such persistent instabilities.  Expect thinner, rockier, weaker areas of the snowpack, at mid to upper elevations with sufficient snow coverage, to be the most likely places to trigger a large and dangerous persistent slab.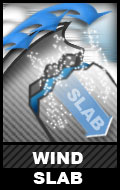 Click here to learn more about wind slabs and management of this type of danger
Wind slabs, generally less than a foot deep, are a possibility – more so to the north in the Eagle River area.  Expect the problem, in both the Front Range and Eagle River areas, to be the most suspect in the upper elevations near peaks and along ridelines.
———
Be on the lookout for red flags of instabilities: wind loading, recent avalanches, whumphing (collapsing), shooting cracks, hollow sounding snow (denser snow on top of less consolidated snow), and specifically for the wind slab problem: snow that looks fat, pillowy, or loaded.
As always, if you are in avalanche terrain assess the snowpack and consequences for yourself.  Click here for a list of local educational opportunities through which you can learn how.
Here's a couple online tutorials:
Online Avalanche Course provided by the Canadian Avalanche Centre
Avalanche Awareness provided by the Forest Service National Avalanche Center
Mountain weather:
Sunday: Cloudy with a chance of snow in the afternoon, light winds, and temperatures in the teens.