The Anchorage Avalanche Center has concluded its fourth season of providing regular, organized backcountry avalanche information and education programs for Chugach State Park and residents of the greater Anchorage area.  During the 2015-16 season we provided 34 advisories (at least once a week, every weekend, from mid December through April, with additional advisories issued as warranted by conditions), 65+ observations, FREE backcountry preparedness and avalanche awareness clinics for at least 100 individuals in the greater Anchorage area, and FREE "Know Before You Go" avalanche education for at least 1,000 middle and high school students in the Anchorage and Matanuska-Susitna Borough School Districts.
If you would like to see the Anchorage Avalanche Center continue to provide quality information and education programs, please make a tax-deductible donation.  Currently operating at a grassroots level, due to lack of government funding, the Anchorage Avalanche Center is dependent on community and industry support.  A small donation goes a long way and if every follower of the Anchorage Avalanche Center donated at least $20, we'd probably meet our long sought after seasonal operating budget in no time.  Please help us make this happen for the 2016-17 season!
Checkout our new (and developing) membership page, or click the donate button below to help make the Anchorage Avalanche Center a sustainable institution, and go-to backcountry resource for the greater Anchorage area!
While programming for the 2015-16 season has ended, we will continue to post observations.
Win a prize for submitting quality observations!  Thanks to generous support from Patagonia, Black Diamond, Voile, and Gu we'll be giving a prize to the ten best Chugach State Park snow, weather, and avalanche observers of the season!  Submit your observations via the observations page, email, or via Facebook.  At the end of May, AAC staff and volunteers will choose ten winners and rank 1-10 with the first place winner getting first choice of prize…etc.  You don't have to be a snow nerd; quality photos and conditions reports are as valuable as snowpits!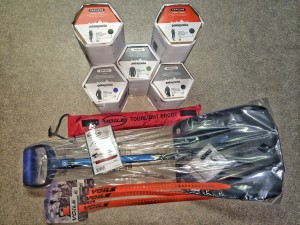 Upcoming FREE backcountry preparedness & avalanche education opportunities:
Campbell Creek Science Center – May 10-13, local elementary school programs (email for info)
Joint Base Elmendorf-Richardson (JBER) – Wednesday, June 1, military program (email for info)
Visit AlaskaSnow.org for similar opportunities statewide as part of a State of Alaska Department of Public Safety avalanche awareness and backcountry preparedness program.

Whether you're out to ride fresh snow or just going for a hike in the high country, be mindful of snow conditions and avalanche danger.
Taking a ride in an avalanche is brutal, if not fatal.  If you aren't already "avy savvy," or need to brush up on your avalanche assessment skills, check AlaskaSnow.org for statewide education and training opportunities near you!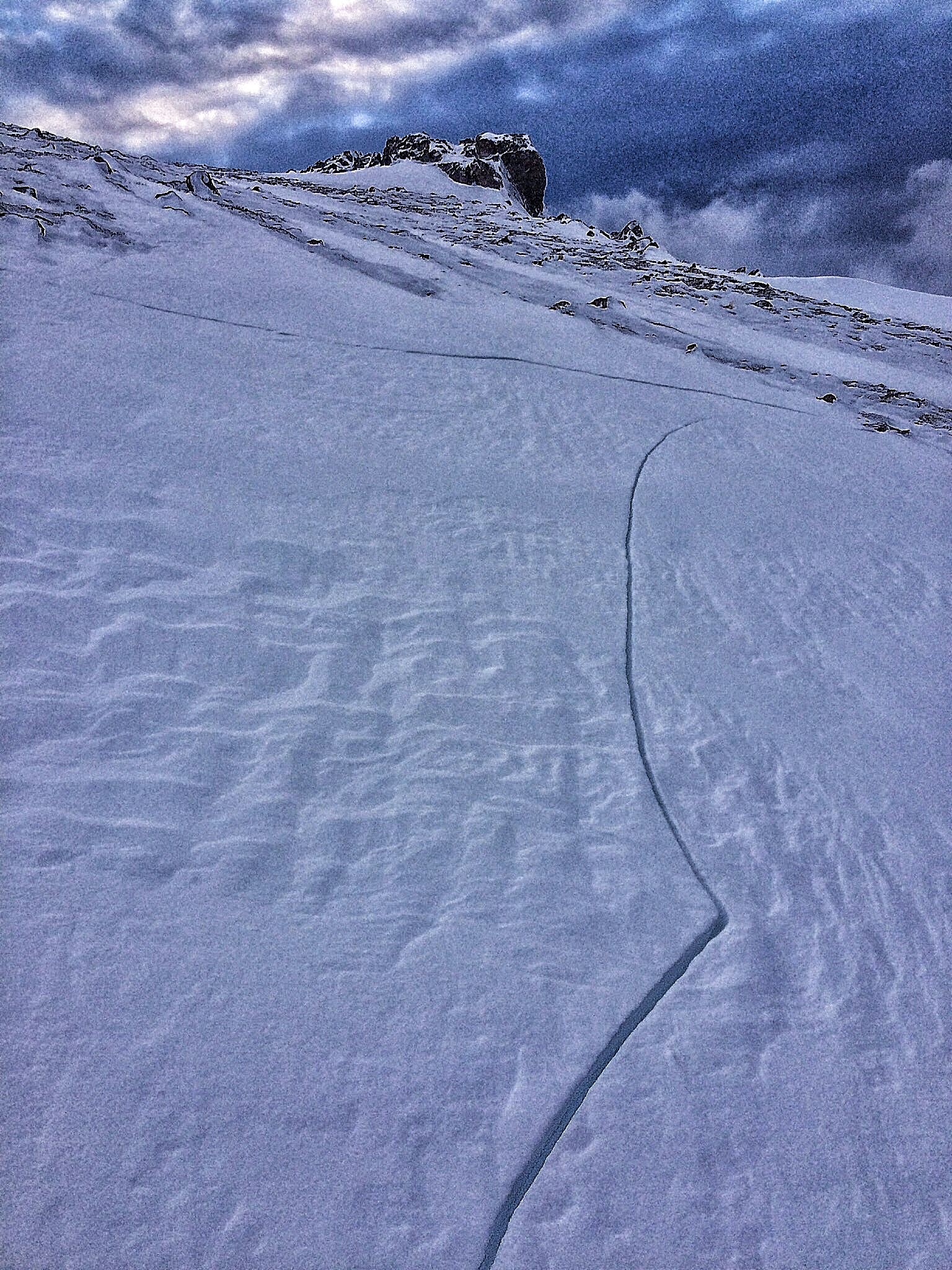 Impressive shooting crack on Peak 3 (NW aspect, ~3700′, 12/13/15): a screaming red flag of avalanche danger
Support your local grassroots avalanche center!
Despite close proximity to the state's most densely populated region, heavy wintertime use, rapidly increasing recreation in avalanche terrain in recent years, and 16 avalanche related fatalities in the past few decades, Chugach State Park (CSP) lacked an organized avalanche information program prior to the development of the grassroots Anchorage Avalanche Center (provided through a partnership with the non-profit Alaska Avalanche Information Center).  CSP's most popular, and Alaska's most readily accessible, avalanche terrain of the Front Range and Eagle River areas comprise the Anchorage Avalanche Center's core advisory zones.
Anchorage Avalanche Center mission: enhance the safety, awareness, and enjoyment of backcountry enthusiasts visiting our backyard mountain playground (Chugach State Park) through avalanche advisories, snow-weather-avalanche observations, and backcountry education.
Anchorage Avalanche Center vision: comprehensive information and education for backcountry recreation in Chugach State Park.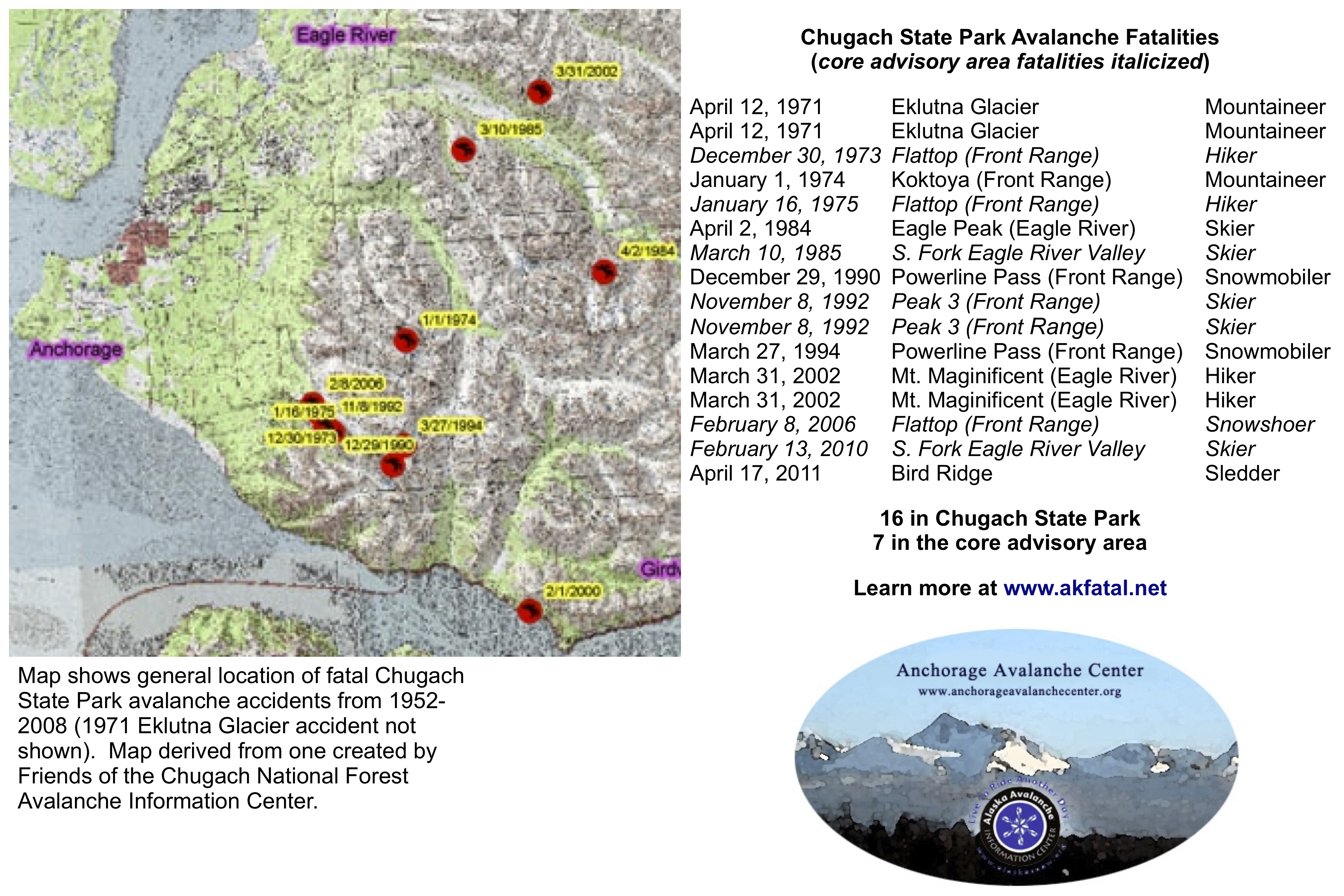 Learn more about the roots of the Anchorage Avalanche Center effort:
Piloting a backcountry avalanche advisory program for Alaska's most readily accessible avalanche terrain: The Front Range and Eagle River area Chugach (eight page overview presented at the 2014 International Snow Science Workshop)