Thursday, January 9 – Observations – Canyon Road
Obvious signs of instability:
Weather:
Cloudy skies with a very light, mist-like drizzle for a brief period
Calm wind with some light gusts at ridge line
Alpine temps in the 20s
Surface conditions:
The good: fully supportable windboard with a couple cm's of fresh snow with no wind affect (getting capped by a thin drizzle/mist crust)
The bad: breakable wind crust in places around tree line (mainly through the alders on the approach/exit)
Snowpack discussion:
Snow snobs stay at home!  But for those of us with a more unconditional love of snow, if you can dig the hardpack, lovin' can be found.  However, expect a more contentious love in the Eagle River area.  Suffice to say, the widespread alpine wind slab at the surface seems more breakable to the north.  Not only does this mean worse skiing, but more suspect stability as well.  The more intense winds that affected the southern Front Range actually improved the skiing (fully supportable wind slab) and seem to have improved stability as well (stronger wind slab takes more of a load to penetrate and affect weak layers below).  See the Arctic Valley observations from 1/8/14 for a better idea of what's going on in the northern advisory area.
Nonetheless, from the Front Range to Eagle River area the snowpack still harbors persistent weak layers with the potential to fail and propagate.
Snowpack profiled and assessed between the saddle and top of Peak 4 on Thursday (dogs couldn't resist walking above the pit today):
Looking down from the pit (unfortunately, below the upper bowl the snow funnels into a thin band of coverage in the gully that is a bit sastrugied):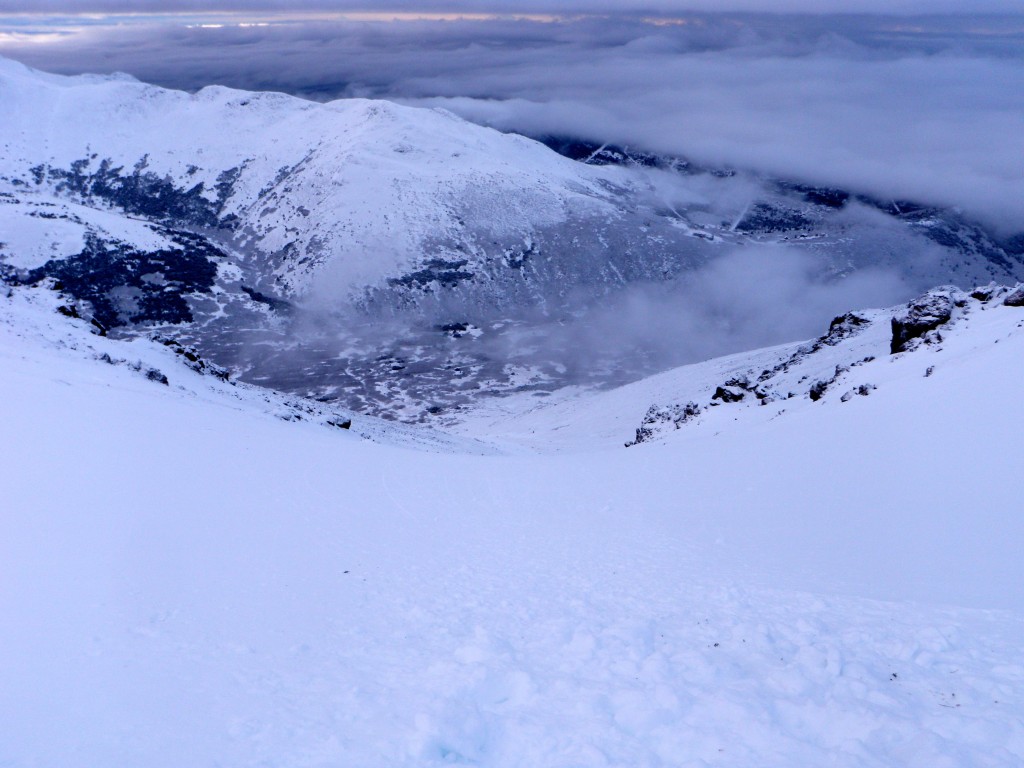 Peak 4 in all its early season glory (much better than this time last year):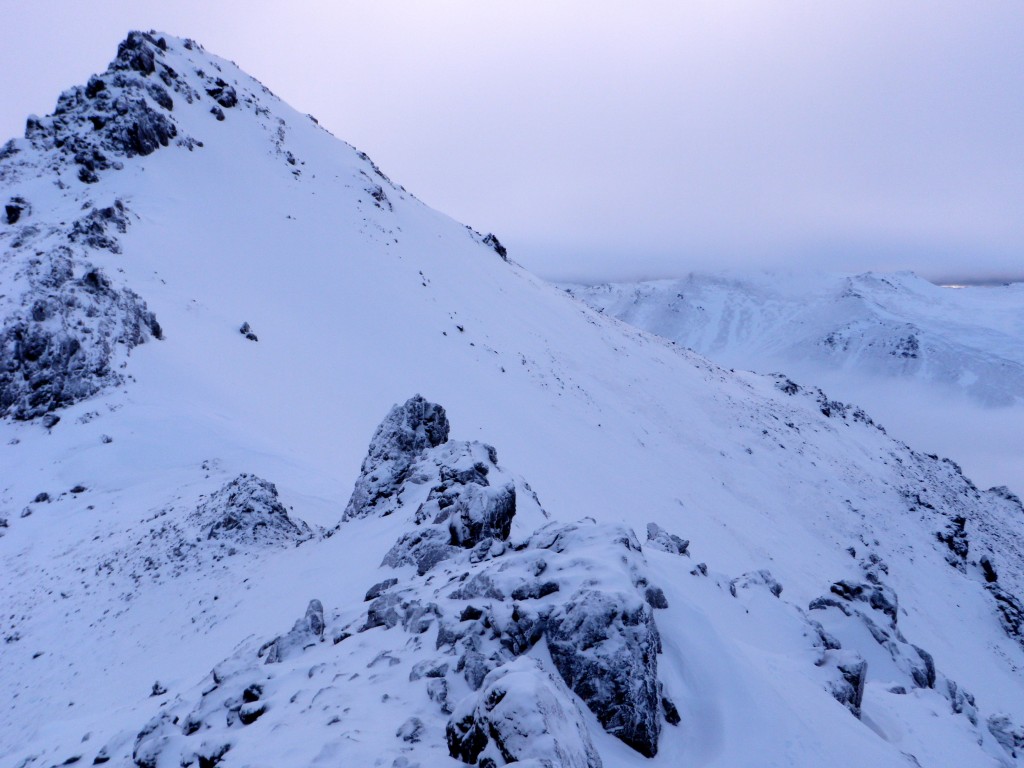 Weekend Avalanche Outlook
Saturday & Sunday:

Click here to see the complete danger scale
The lowdown:
Snowpack data and skiing experience this week suggests that stability is the most suspect in the northern advisory area (Eagle River), although the Front Range still harbors a snowpack with persistent weak layers capable of failing and propagating as well.
Primary concern:

Click here to learn more about persistent slabs and management of this type of danger
Persistent slab problems; primarily consisting of melt-freeze/rain crusts (bed surface), faceting grains on top of the melt-freeze crusts (weak interface/layer), and wind-packed hard slabs above; are widespread throughout the Front Range and Eagle River area Chugach.
Snowpit stability tests from Wednesday and Thursday showed continued failure and propagation potential of such persistent instabilities.  Expect thinner, rockier, weaker areas of the snowpack, in upper elevation terrain with sufficient coverage, to be the most likely places to trigger a large and dangerous persistent slab.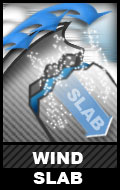 Click here to learn more about wind slabs and management of this type of danger
Wind slabs, generally less than a foot deep, are a possibility – more so to the north in the Eagle River area.  Expect the problem, in both the Front Range and Eagle River areas, to be the most suspect in the upper elevations near peaks and along ridelines on west to north aspects.
———
Be on the lookout for red flags of instabilities: wind loading, recent avalanches, whumphing (collapsing), shooting cracks, hollow sounding snow (denser snow on top of less consolidated snow), and specifically for the wind slab problem: snow that looks fat, pillowy, or loaded.
As always, if you are in avalanche terrain assess the snowpack and consequences for yourself.  Click here for a list of local educational opportunities through which you can learn how.
Here's a couple online tutorials:
Online Avalanche Course provided by the Canadian Avalanche Centre
Avalanche Awareness provided by the Forest Service National Avalanche Center
Mountain weather:
Saturday: Cloudy, light winds, and temperatures in the upper teens.
Sunday: Cloudy with a chance of light snow, light winds, and temperatures in the upper teens.