We need your support to build the Anchorage Avalanche Center into a sustainable institution for our local mountain community (please click here to become a member and make a tax-deductible donation)!
The Anchorage Avalanche Center has concluded its fourth season of providing regular, organized backcountry avalanche information and education programs for Chugach State Park.  During the 2015-16 season we provided 34 advisories (every weekend, from mid December through April, with additional advisories as warranted by conditions), 65+ observations, FREE backcountry preparedness and avalanche awareness clinics for over 100 individuals in the greater Anchorage area, and FREE "Know Before You Go" avalanche education for over 1,000 middle and high school students in the Anchorage and Matanuska-Susitna Borough School Districts.
Anchorage Avalanche Center mission: enhance the safety, awareness, and enjoyment of backcountry enthusiasts visiting our backyard mountain playground (Chugach State Park) through avalanche advisories, snow-weather-avalanche observations, and backcountry education.
Anchorage Avalanche Center vision: comprehensive information and education for backcountry recreation in Chugach State Park.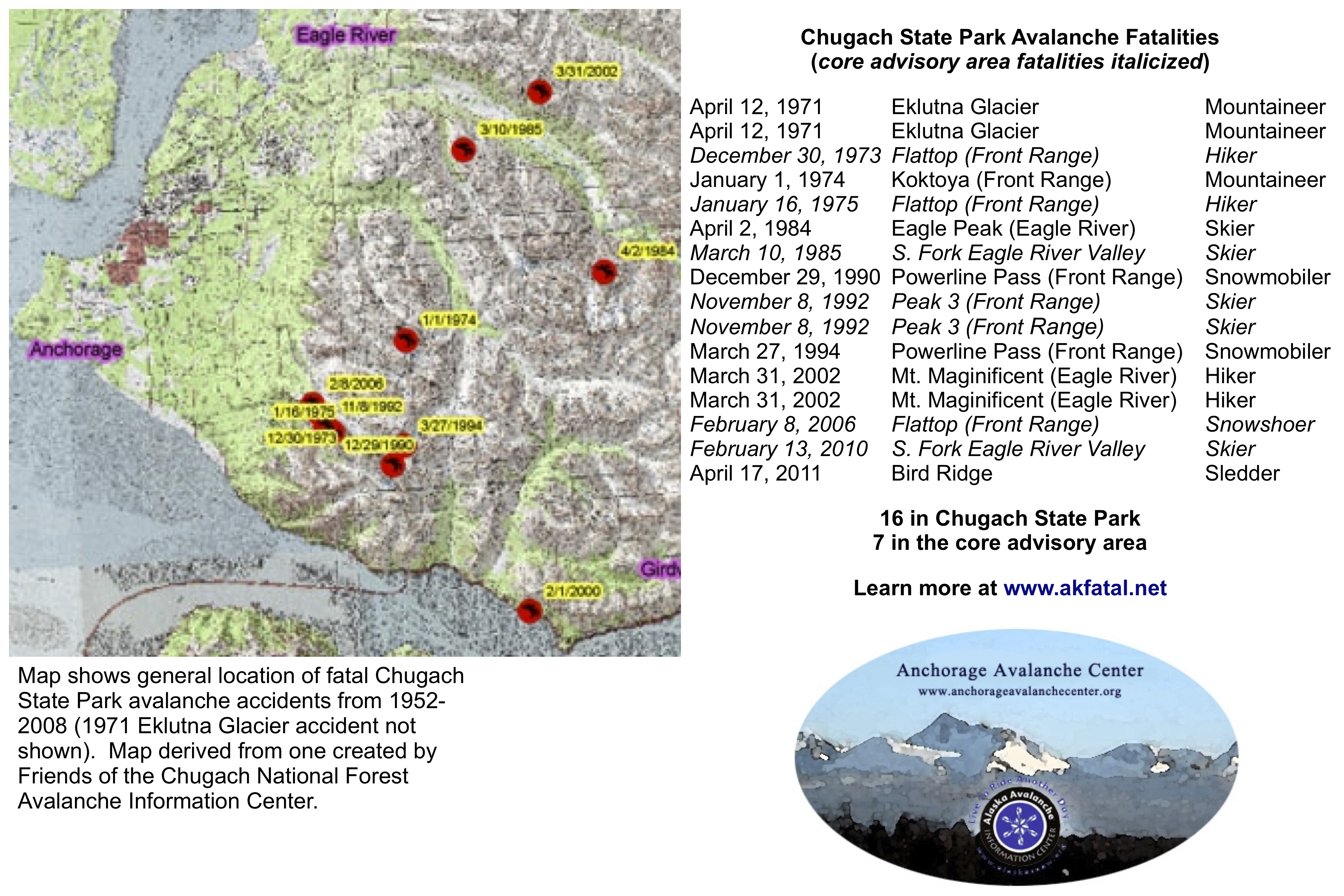 The AAC's core advisory zones in the Front Range and Eagle River areas of CSP are Alaska's most readily accessible avalanche terrain.  Despite close proximity to the state's most densely populated region, heavy wintertime use, rapidly increasing recreation in avalanche terrain in recent years, and 16 avalanche related fatalities in the past few decades (seven in the core advisory zones), Chugach State Park lacked an organized avalanche information program prior to the development of the grassroots Anchorage Avalanche Center.
This project started as a Masters of Science in Outdoor & Environmental Education thesis project at Alaska Pacific University, with input from primary stakeholders including the Alaska Avalanche School, Chugach National Forest Avalanche Information Center, Friends of the Chugach National Forest Avalanche Information Center, Chugach State Park, Chugach State Park Citizen Advisory Board, Friends of Chugach State Park, and many other local outdoor professionals and recreational users of Chugach State Park avalanche terrain.  The project was eventually made available to the public through a partnership with the Alaska Avalanche Information Center.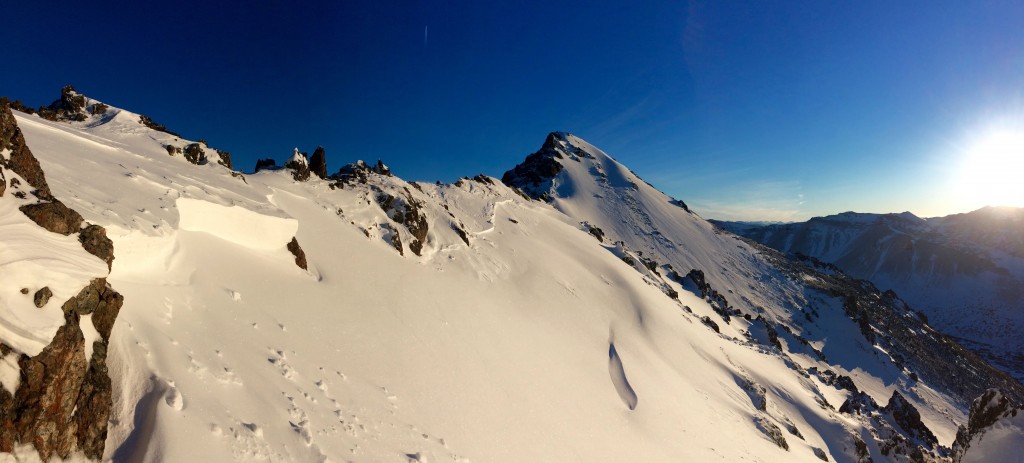 Large avalanche behind Flattop that took a skier and a dog for a scary ride in early January 2016 (one of many close-calls during the 2015-16 snow season).
Learn more about the roots of the Anchorage Avalanche Center effort:
Piloting a backcountry avalanche advisory program for Alaska's most readily accessible avalanche terrain: The Front Range and Eagle River area Chugach (eight page overview presented at the 2014 International Snow Science Workshop).
Win prizes for quality observations!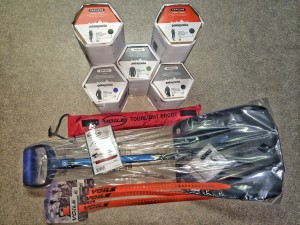 Thanks to generous support from Patagonia, Black Diamond, Voile, and Gu eight individuals were awarded a prize for submitting the best Chugach State Park snow, weather, and avalanche observerations of the season!
We plan to continue this incentive for observations for the 2016-17 season with even better prizes!  Submit your observations via the observations page, email, or via Facebook as often as possible.  You don't have to be a snow nerd; quality photos and conditions reports are as valuable as snowpits!
Know Before You Go!
Whether you're out to shred fresh pow, ride your fat bike on the alpine trails of Chugach State Park, find solace by snowshoes, or just going for a winter hike in the high country; be mindful of snow conditions and avalanche danger!
Taking a ride in an avalanche is brutal, if not fatal.  If you aren't already "avy savvy," or need to brush up on your avalanche assessment skills, check AlaskaSnow.org for statewide education and training opportunities near you!